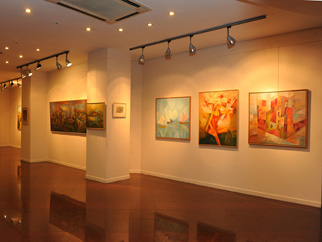 ICI Art Gallery
This long term project was developed by our Chamber to support art and culture as a social responsibility activity. The main mission is to promote, encourage and pave the way for young art professionals who chose art as their profession and graduated from fine arts faculties.
The gallery also exhibits the works of faculty members, masters and international artists.
Personal exhibitions include paintings (oil, acrylic, mixed media), sculpture, ceramics, photos, videos, industrial designs, graphics, textile etc. with original and modern works of art.
The project is run by our expert Art Consultant whose contact information can be found below.
Would you like to introduce yourself and tell us about your products?
Please take a high resolution photo of your work. Prepare a CD-file that includes your cover letter titled 'I would like to introduce myself and my work and share it with you', resume, art manifesto that talks about what you want to bring to modern art that is new or different and contact information and mail it with the title 'To the attention of the Art Consultant' and inform them via a brief e-mail. We ask that you don't call directly.
The Art Consultant will personally contact shortlisted applicants within one month of submitting the file for a personal exhibition or participation in a mixed exhibition. The application CDs won't be mailed back or kept.
The Art Consultant:
S. Yalçın DENİZYILMAZ
E-mail: yalcindenizyilmaz@hotmail.com
Address:
İstiklal Caddesi No:142/1
Odakule Binası
34430 Beyoğlu - İSTANBUL
ICI Art Gallery
Address
ICI Art Gallery
İstiklal Caddesi No:142/1 Odakule 34430 Beyoğlu - İSTANBUL
Phone
0212 - 251 52 85
Visiting Hours
Excluding Sunday 10:00 - 18:00